Hello
I'm
Karin
After seeing her first big screen movie 007: License to Kill at age six, a questionable parenting move she still thanks her parents for, Karin naturally became obsessed with writing action-infused stories. The next time she'd see Benicio del Toro was in person, twenty-six years later at the 68th Cannes Film Festival. He was there for the Sicario red carpet, she was there for her first produced short film in the basement of the Palais…same-same.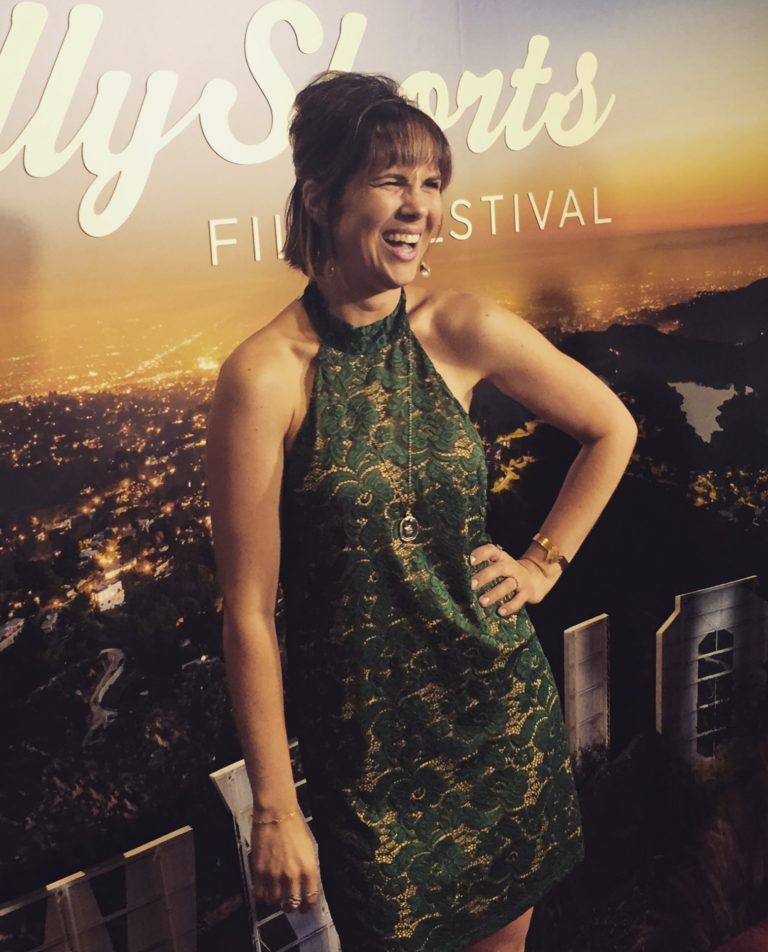 Writer of screenplays, fiction and brand stories.
Blogger of Film & TV.
Fairytale addict, Trekkie & Superhero Fangirl.
In between, Karin traded her small town for a Creative Writing Degree and urban life in the next city over, where she worked her way from magazine intern to interviewing Maggie Q, then went all-in on a freelance writing career. The pay-off was landing management with the same company as Princess Jasmine (because she's a nerd like that) at Echo Lake Entertainment, a Top 3 placement in Final Draft's Big Break, and the incomparable feeling of belonging in one's own skin when behind her pink MacBook, make-believing.
Usually too terrified to talk, Karin is pro at becoming friends with the loudest person in the room. Stemming from an over-protective mother that created fear as a guiding principle for life, Karin's favorite type of characters are women who stand up to the Big Bad…while she spends her own days editing screenplays and contributing to the Final Draft blog (everyone needs a day job), and not going into the woods she lives next to; because why would you tempt the dark side when there's a perfectly paved road to walk?
SCREENPLAY COMPETITIONS
THE POTENTIALS "Becoming Aphrodite"
2022 Stage32 Sci-Fi/Fantasy Screenwriting Competition Finalist
2022  Stage32 Female Driven Screenwriting Competition Semifinalist
2022  ScreenCraft Fellowship Quarterfinalist
HOPE FALLS "Pilot"
2022  Stage32 Female Driven Screenwriting Competition Finalist
2021  ScreenCraft TV Pilot Quarterfinalist
2020  Table Read My Screenplay – Genre: Drama Top 100
BECOMING APHRODITE "Pilot"
2017   ITV Fest Official Screenplay Selection
2017  ScreenCraft Screenwriters Residency Program Semifinalist
DECROWNED
2017  Hollyshorts Film Festival Official Screenplay Selection (an Academy Awards® Qualifying Festival)
2017  ScreenCraft Short Film Fund Semifinalist
THE FLASH "The Conductor", spec script
2016  Final Draft Big Break Contest Top 3
THE OTHER ROOM, writer + director
2015  ScreenCraft Short Film Fund Semifinalist
FILMOGRAPHY
EYE FOR AN EYE (Short)
2015   Cannes Film Festival Short Film Corner
Congrats! You're literally a superhero: you finished that manuscript, pilot, feature—the THING you had to get on the page. It's tough, but oh-so-worth-it. Now what? 
The part that I love:
SCREENPLAY EDITING
I will read your script from top to bottom looking for spelling, grammar, industry-standard formatting, and clarity issues. My clients have gone on to final in screenplay contests as well as have their work produced!
Spelling & Grammar.
Sometimes, auto-correct doesn't cut it.
Formatting.
Did you catch that INT. header location was the same place we're at now, but three scenes ago it had a different name? I did!
Clarity.
Say what?!
Interested in polishing your manuscript before it hits the contest, fellowship, or that manager's desk? Shoot me an email at: writergirlkarin@gmail.com.
I highly recommend Karin's services to all screenwriters. She is an incredible editor! I've also worked with Karin on several of her scripts. She is a very talented writer. Her formatting is also perfect. This is what made me know that I could recommend her to anyone. I know that everyone I've sent her way has come back to me with glowing reviews. If you want to take your scripts to the next level, you should work with Karin!
Karin's editing is what got me to where I am today. From kicking my characters in the butt, to pushing me to be better and correcting all of my grammar. She catches everything! I couldn't do it without her.
Around the time I bought my first copy of Final Draft screenwriting software to take my freshman creative writing class in style, I binge-watched my first TV show: CSI.

Two decades later, I was BEYOND thrilled to get to write about it — and many more shows — FOR Final Draft. Weekly, in fact, in a little column called the History of Television: Binge-able TV Screenwriters Can Study.
As a hard and fast fan of shows like Halo and Hunters, I'm also thrilled for the opportunity to interview their showrunners Steven Kane and David Weil respectively — Kane on honoring the Halo spirit, and Weil on his Sci-Fi Apple+ show, Invasion. As well as many other screenwriters rising through the ranks in Hollywood.
Some super geeky dreams coming true over here… Check them out on the Final Draft Blog.